Welcome to
North Tonawanda Public Library
The Friends of the Library are holding a Summer Vendor Sale. If you would like to participate, stop in the library to pick up an application, or click the link below. Call 716-693-4132 for more information
Friends of the Library Book Donation Hours
If you have any books you would like to donate, we will have open donation hours every Tuesday and Thursday from 11am-1pm. Call the library for more details.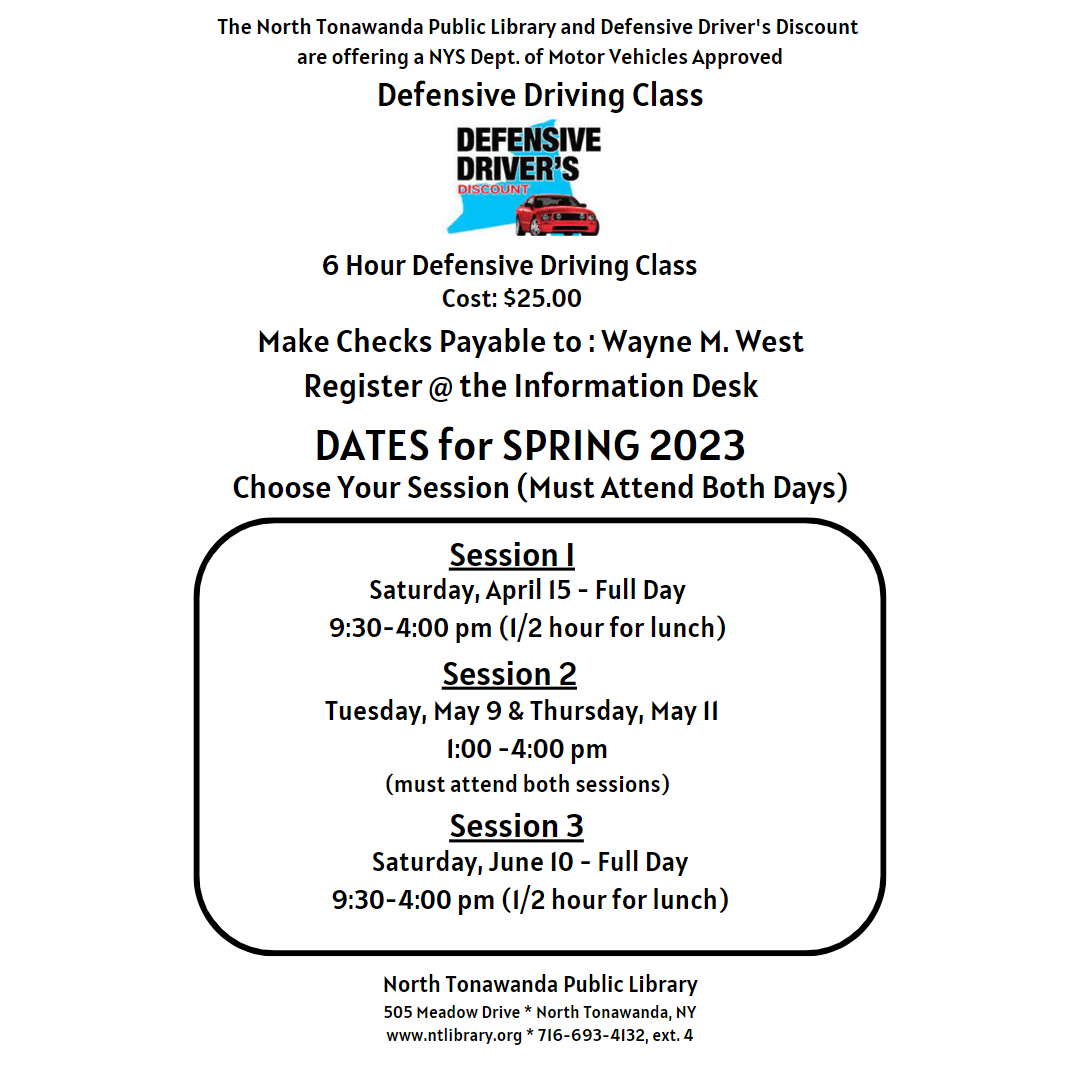 Defensive Driving
Sign up for a Defensive Driving course today! Registration at the Information Desk.
Information on Holds
Effective May 1st, we will no longer be calling for hold notifications. Please add your email address to your record with the Circulation Desk for notifications.
Our goal is to help you find what you need!
For over 120+years, North Tonawanda Public Library has been providing access to a diversity of ideas, resources, and services to meet the informational, educational and recreational needs of the community. Whether it be books, audio books, magazines, or newspapers, we will help you find the right match for your needs.
Reading brings tranquility. Life can get hectic so it's important to slow down and enjoy a good book. NT Library offers a huge selection of books, clubs, and events for adults.
From new book recommendations to volunteer opportunities, we have what every teen needs to continue their love of reading.
We offer a variety of books, clubs, events and more for kids. Browse our offerings that will help your child learn, grow, and develop their love of reading.
In the spirit of kindness, NTPL will display a giving tree for the 3 months of summer.  We hope you will put the ...
Check out our new additions to our collection:  Learn lifesaving skill in the comfort of your home.  Each kit ...
Come show your support for the Library & vote for the budget & Trustee election.  North Tonawanda ...