Teen Service Learning
On Thursday, January 13th at 3-6pm in the meeting room, earn some community service time and help your library!  ...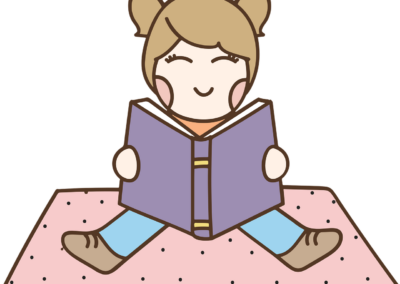 Preschool Storyhour
Storytime is back for kids 3-5 & their caregivers! Join us Mondays or Wednesdays, January 10-Februrary 16 at 10am ...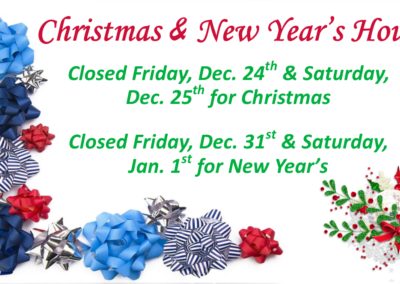 Holiday Hours
The library will be closed on Friday, December 24 and Saturday, December 25 to observe Christmas. We will also be ...
Children's Room Closure Dec. 27-28/29
We will be painting the Children's Room on Monday, Dec. 27-Tuesday/Wednesday Dec. 28/29. It will be closed to the ...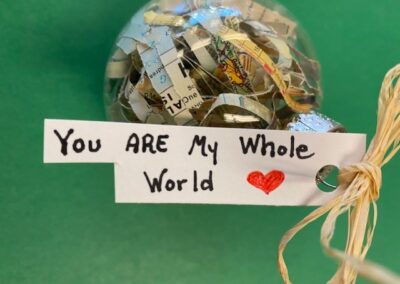 Adult and Teen Take-Home Craft: Holiday Ornament
Adults and teens: Make an ornament for someone special, or to jazz up your holiday decor! Reserve your You Are My ...
Tonight–Buffalo & Brandy Holiday Show!
At 5:30pm tonight, Buffalo & Brandy will be giving a free, live, holiday show for all ages! Perfect for families, ...
Children's Craft Week – December 13-18 All Day
Come make some wintery crafts with us! Stop in anytime and craft in the meeting room.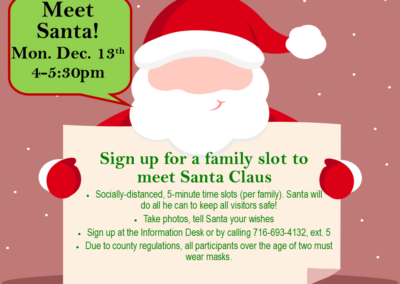 A Visit from Santa!
Santa Claus is coming to the library! He'll be here 4-5:30pm on Monday, December 13 for socially-distanced chats ...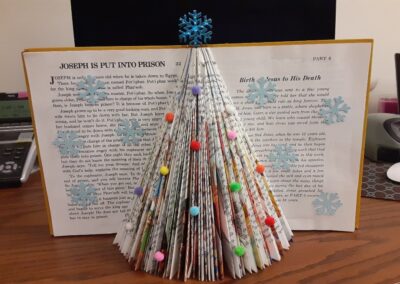 Book Christmas Trees: Adult/Teen Take-Home Craft-full
Update: All of our kits have been claimed! This program is full! Make your own bookish holiday decoration! ...
New Holiday Books
Looking for something new to read for Hanukkah or Christmas? We're making a list of all our new holiday books ...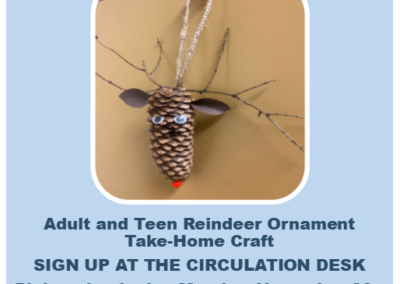 Reindeer Ornament–Adult & Teen Take-Home Craft
Up your winter decor game with our newest adult/teen take-home craft: a pinecone reindeer ornament. To claim your ...