New Fall Titles for Kids
Falling leaves, pumpkins, school, all things spooky--we're rounding up our favorite new kids reads for fall! Find ...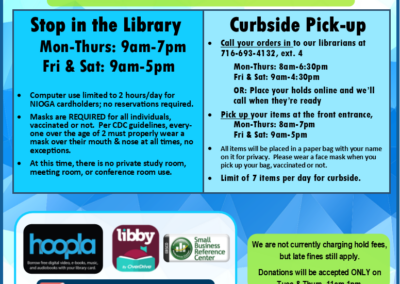 Updated Hours and Mask Policy-Starts Sept. 7
IMPORTANT UPDATE: As voted by the Library Board, starting on Tuesday, September 7th, ALL PATRONS (VACCINATED AND ...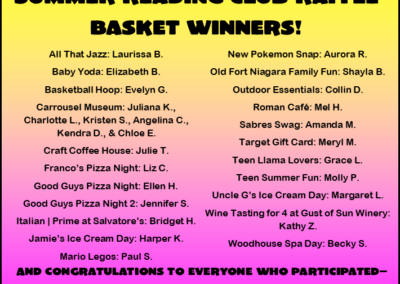 Summer Reading Club 2021 Winners
Congratulations to our 2021 Summer Reading Club--Tails & Tales-- winners! Over 930 people participated in summer ...
Book Discussion
Join us on Wednesday, September 8th at 11:30am in the meeting room to discuss the NYT Bestseller and winner of ...
Green Cleaning Workshop
On Tuesday, August 17th at 11am, join the UB Environmental Health Study for Western New York for a free workshop ...
Tails & Tales
New books featuring animals and/or fairy tales, a list made to compliment our summer reading club for adults and ...
Sit Means Sit Dog Agility Show
Friday, July 23 @11am. See agility dogs show off their skills and learn the basics of interacting with dogs. ...
Gypsy Meadows Beekeeping
Tues. 7-20 @ 5:30pm Learn the art of beekeeping. Live Presentation!
Updated Mask Policy-Jun 29, 2021
As of June 29th, 2021, masks are optional if you have been fully vaccinated for COVID-19. Those who have not yet ...
Outdoor Pilates – Starts Friday, June 18
To be held on Fridays, June 19 through July 9 12:00pm - 12:45 pm Improve your strength, flexibility and balance.  ...
Updated Mask Policy
Please note: ALL patrons (over the age of 2) are still required to properly wear their face masks the entire time ...